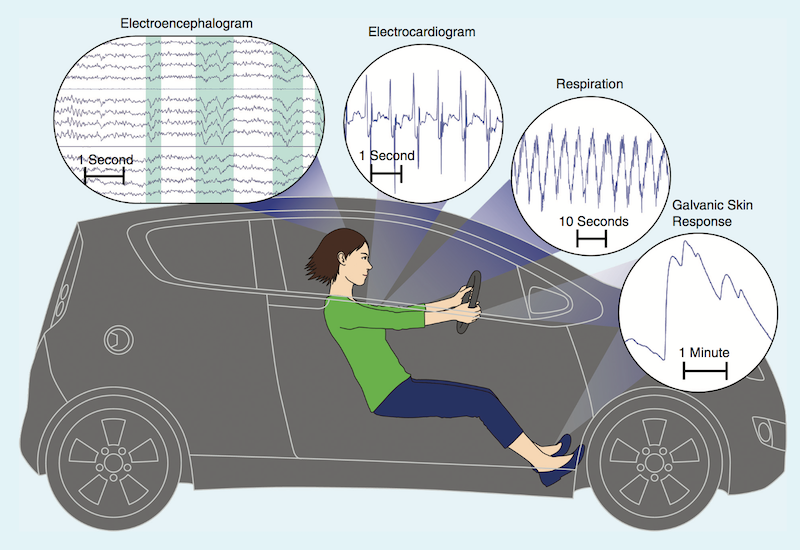 The eDREAM dataset consists of the following parts:
EEG data: four channels of EEG signals collected using a wireless Muse headband
Physiological data: including ECG, GSR and repiration information
Eye-tracking data: gaze and eye-related information estimated by a remote eye-tracker
Vehicle-based data: measurements of the driving environment and other
Metadata: conditions of experiment variables (e.g. the secondary task) at each sampling time
Participant-related data: including subjective rating results, answers to secondary tasks, and experiment logs
More details are provided by below. For more information regarding the dataset collection (such as participant group, primary task and secondary task implementation, and procedures), please refer to the data collection report. You are also welcome to contact us for inquiries.
Vehicle-based Data
Vehicle-based data were recorded by the driving simulator, NADS MiniSim. The data was originally stored in DAQ formats, which were transformed to MATLAB data files (".mat") using the "ndaqtool" provided by NADS. Each recording contains 383 fields and the description could be found in Appendix B of MiniSimUserGuide-v17. Some of the fields are listed below:
Field Name
Cols
Description
Units/Values
Frames
1
MiniSim frame number
Integers incrementing at 60Hz
SCC_LogStreams
1
Indicates the current characteristic of the road
0 = straight, 1 = curved
2
Indicates if the audio of n-back tasks was on*
0 = no audio, 1 = audio was played
3
Indicates if the lead vehicle was braking
0 = no brake, 1 = braking
4-5
Unused
SCC_Follow_Info
1
Identifier of object
-1 = none or error, 0 = no own-vehicle
2
Distance to the lead vehicle (LV)
Feet
3
Bumper-to-bumper time to LV
Seconds
4
Bumper-to-bumper distance to LV
In feet
5
Time-to-collision
Seconds
6
LV velocity
Ft/s
7-9
X, y, z coordinate of LV
CFS_Accelerator_Pedal_Position
1
Accelerator pedal position
Normalized value between 1 and 0.
CFS_Brake_Pedal_Force
1
Brake pedal force
Pounds
CFS_Brake_Pedal_Position
1
Brake pedal position
Radians of actuator movement
CFS_Steering_Wheel_Angle
1
Steering wheel angle
Degrees
ET_frame_num
1
faceLAB eye tracker frame number
Integers
* Or the corresponding duration in no-task drives.
Physiological Data
The GSR, ECG and respiration data were recorded using the D-Lab software and exported into text files.
D-Lab recordings contain the following fields:
| Col Name | Col. No. | Variable | Frequency | Description |
| --- | --- | --- | --- | --- |
| frame num_frm# | 1 | MiniSim Frame Number | 60 Hz | Relayed from MiniSim |
| frame num_log_stream[0] | 2 | During Curve or Not | 60 Hz | First column of SCC_LogStream from MiniSim:0 = during straight route, 1 = during curve |
| frame num_log_stream[1] | 3 | Audio States* (n-back test) | 60 Hz | Second column of SCC_LogStream from MiniSim: 0 = no audio, 1 = audio was played |
| frame num_log_stream[2] | 4 | Leading Vehicle Braking States | 60 Hz | Third column of SCC_LogStream from MiniSim: 0 = no braking, 1 = braking |
| frame num_SCC_Follow_Info[1] | 5 | Headway | 60 Hz | Second column of SCC_FollowInfo in MiniSim: distance to the lead vehicle (LV) |
| My Physio System_ECG | 6 | ECG | 240 Hz | Electrical activity of the heart |
| My Physio System_GSR | 7 | GSR | 240 Hz | Electrical characteristics of the skin, unit: uSiemens |
| My Physio System_RESP | 8 | Respiration | 240 Hz | Shape change of torso while breathing |
* Or the corresponding duration in no-task drives.
EEG Data
EEG signals were captured using a prototype of Muse headband, and recorded using the MuseLab software. Spontaneous electrical activity from four positions (TP9, Fp1, Fp2 and TP10) were collected. The original data was stored in a binary format (".muse"), which could be converted to CSV, mat-file or printed on screen directly using MusePlayer downloaded from http://developer.choosemuse.com/. The detailed description of the Muse recordings can be found from http://developer.choosemuse.com/research-tools/available-data. Some of the fields are listed below:
| MuseIO Paths | Freq | Unit | Description |
| --- | --- | --- | --- |
| frameNo | 60Hz | - | forwarded miniSim frame number |
| /muse/eeg | 220Hz | uV | Raw EEG data collected from position TP9, Fp1, Fp2, TP10. |
| /muse/elements/raw_fft0 /muse/elements/raw_fft1 /muse/elements/raw_fft2 /muse/elements/raw_fft3 | 10Hz | dB | 129 coefficients representing the logarithm of Power Spectral density for frequencies in the range of 0-110Hz. |
| /muse/elements/low_freqs_absolute /muse/elements/delta_absolute /muse/elements/theta_absolute /muse/elements/alpha_absolute /muse/elements/beta_absolute /muse/elements/gamma_absolute | 10Hz | Bels | power of low frequencies (2.5-6.1Hz), delta band (1-4Hz), theta band (4-8Hz), alpha band (7.5-13Hz), beta band (13-30Hz) and gamma band (30-44Hz) at four positions. |
| /muse/elements/delta_relative /muse/elements/theta_relative /muse/elements/alpha_relative /muse/elements/beta_relative /muse/elements/gamma_relative | 10Hz | Bels | The relative band powers calculated as percentages of linear-scale band powers in each band for four positions. |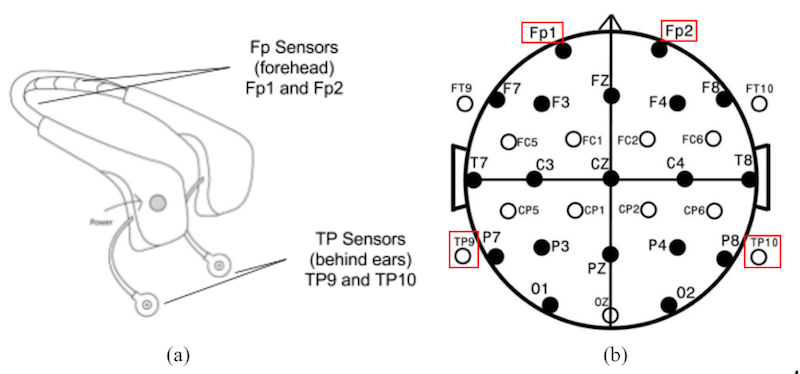 Eye-tracking Data
Eye tracking data was collected using faceLAB 5.0 at a frequency of 60Hz for all fields. A single faceLAB recording consists of five output under the same folder (with naming convention described at the top of this section). Complete description of all output information can be found in the official Output Data Reference Guide. The table below lists some available data from different files:
File Label
Variable
Column #
Description
Timing
-
-
Experiment timing information (not used).
Head
Frame number
1
faceLAB frame number
Head position (x, y, z)
2-4
Head position vector in the world coordinate system in meters.
Head rotation (Q0, Q1, Q2, Q3)
5-8
A unit quaternion representing the rotation of the ehad coordinate system w.r.t. world coordinate system in radians.
Eye
Eye closure (of right and left eyes)
2-3
The fraction of irirs currently covered by the eye lids. 0.0 = widely open, 1.0=completely closed.
Blinking
7
1 means blink is occurring and 0 otherwise.
Gaze rotation (of right and left eyes, w.r.t. x and y axis)
15, 16, 21, 22
The orientation of the eye gaze w.r.t. the world coordinate.
Face
-
-
Location of facial landmarks in the world coordinate
WorldV2
Gaze intersection item (right, left and both eyes)
3, 12, 20
Label of the world model item the gaze vector intersects with, which could be "Center_Screen", "Left_Screen", "Right_Screen", "DashBoard", or "Nothing"
Gaze intersection in World Coordinates (x, y, z for right, left and both eyes)
4-6, 13-15, 21-23
The point of intersection between the gaze vector and the world model item in world coordinate.

Face Videos
A GoPro camera recorded videos for participants 7 to 37 from an approximately 27 degrees angle from participant's right-hand-side. The videos are stored in MP4 format with the following properties:
Video encoding standards = h264 (High), yuvj420p
Resolution = 720x480 (minimum), 29.97 fps
Audio encoding standards = AAC-LC, 48000 Hz
Metadata
Like other recordings, a metadata file is available for each drive (i.e. each participant has three metadata files for each cognitive load scenario). It provides task and road states given frame numbers. This information was extracted from the driving simulator (MiniSim's) log and thus the sampling frequency is 60Hz. The fields in this file is listed below:
Col. No.
Variable
Values
1
MiniSim Frame No.
Integer
2
FaceLab Frame No.
Integer
3
GoPro time
Float (second. millisecond)
4
Audio state*
0 = no n-back audio
1 = n-back audio was played
5
Lead vehicle state
0 = normal
1 = intense braking
2 = slowed
6
Road state
0 = straight
1 = curved
7
Task state*
0 = not within the n-back sequence range
1 = letter sequence was played
2 = letter sequence was played and lead vehicle braked within this sequence.
* Or the corresponding duration in no-task drives.

Particitant-related Data
Subjective questionnaires used for subjective-rating of perceived workload or risk could be found in appendix of the data collection report. Participants' answers were recorded and organized into an Excel spreadsheet ("Particitants.xlsx").
Miscellaneous information about each participant's experiment were also recorded in other sheets, including participants' answers to the secondary task, the order of drives, and experiment observations.